a fruits guide to rotting
I notice that there's still spray paint on my hands as I'm lying in bed on monday. I had spent the previous day following John around town, watching him break into abandoned buildings and tag the side of the shopmart. that whole day I was in a haze. It felt like I was drifting in and out of reality. At one point, when I stopped to take a photo of one of his tags, I just stood there for a good 2 minutes. John had come up to me as I was staring off into space. He waved his hand in front of my face, then shook my shoulders. He later told me he was worried about me. I think that was the first time John was ever even slightly emotional with me.
John and I have an understanding. We both know we are replacements for other people, substitutes for those we actually care about. I do like him, but he's not the person I'd go to for help or to vent. Our friendship is shallow, but I would miss him if he decided to leave. Sometimes I wonder if he'd miss me, but from what I know of John, he'd probably just find someone else to sit with at lunch.
I realize I'm still lying in bed when my third alarm goes off. Shit. I think, as I roll out of bed. The floor is cold, my room is cold, everything is cold. When I checked my phone last night, the weather app said it would be cool. Around the 60s I think. However, right now it feels like it's in the 30s. I mark my calendar, checking off the date. September 28th, 5 years and 46 days since Cross moved, 4 weeks since Hyacinth disappeared, 8 days since mom left, 2 days since dad went to meet cousin Jolene. I hate cousin Jolen. She's named after that one Dolly Parton song and makes it her whole personality. Thing is, she looks exactly how the song describes Jolene. Dad knows I hate her but he had said she'd be helpful till mom comes back. Dad is in denial. Mom isn't coming back.
I check my phone as i get dressed, carefully avoiding the message app. Weather, notes, photos, a game I almost never play, I look at all of it. Meticulously scrolling and checking every notification (or everywhere there might be a notification) I search till there's no chance of there being anything I missed before allowing my finger to even approach the message app. I hover my thumb over the screen, my shirt half over my head, before touching the screen to open the app. My inbox is absolutely clogged with junk. I probably signed up for some email list after Cross moved to fill the void of little to no new messages. I have since gotten over my little phase of FOMO so now the messages are just annoying. I scroll through the folders of junk until i find the DM i'm looking for. "Hyacinth and Clementine, sisters by choice" It's cheesy as fuck but I think its funny. Or I used too. I'm not sure its as funny anymore.
I take a deep breath and open the DM. I shouldn't be as supprised as I am when i see that there are no new messages, but for some resason, the lack of messages feels like a physical blow. The last conversation in the chat is compleatly innocuous. I was asking her what she wanted for dinner and whether or not we should get take out. She responded with a long winded paragraph about the way our dad makes sandwiches.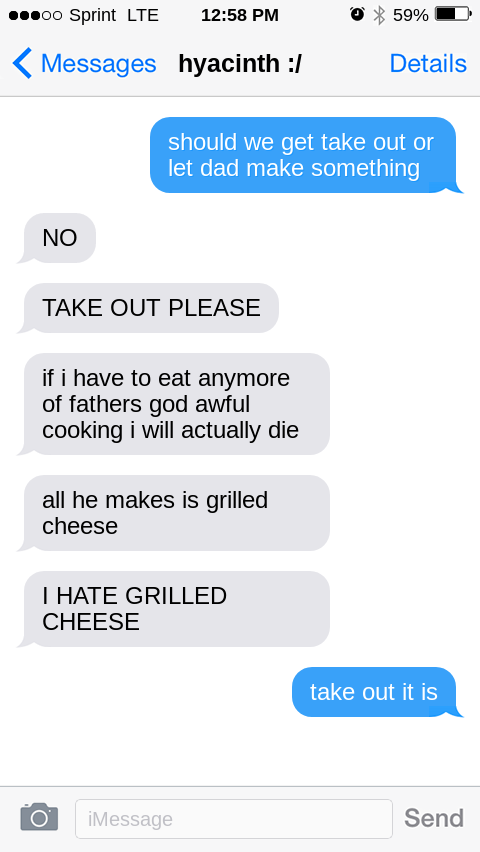 It kills me how stupid our last interaction was. She text-yelled about grilled cheese and I just sort of... digitally nodded along. She wasn't home when I got back from class. No one was. My dad was at work at the shopmart, my mom was out at lunch, and Hyacinth was... somewhere.
I want to cry. I want to be angry. I want to feel something! Insted, I pull my shirt fully over my head, shove my phone in my jeans pocket, and try to ignore how quiet the house is.